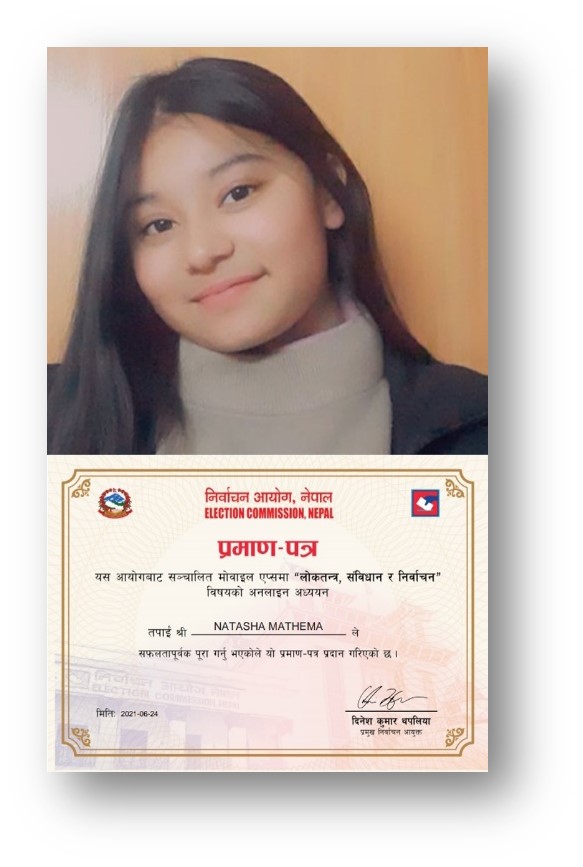 "This mobile application is so much fun and a great learning tool!"
exclaims Ms. Natasha Mathema (picture on right), a secondary school student from Kathmandu. She is excited at the prospect of learning via a mobile application and elaborates,
"I have never taken such a course via a mobile application before, that too in our native language. I loved having the opportunity to learn about elections and democracy in Nepali via this innovative mobile application."
Ms. Mathema is among 84 people to have received a certificate signed by the Chief Election Commissioner Honourable Dinesh Kumar Thapaliya upon successful complete of a course.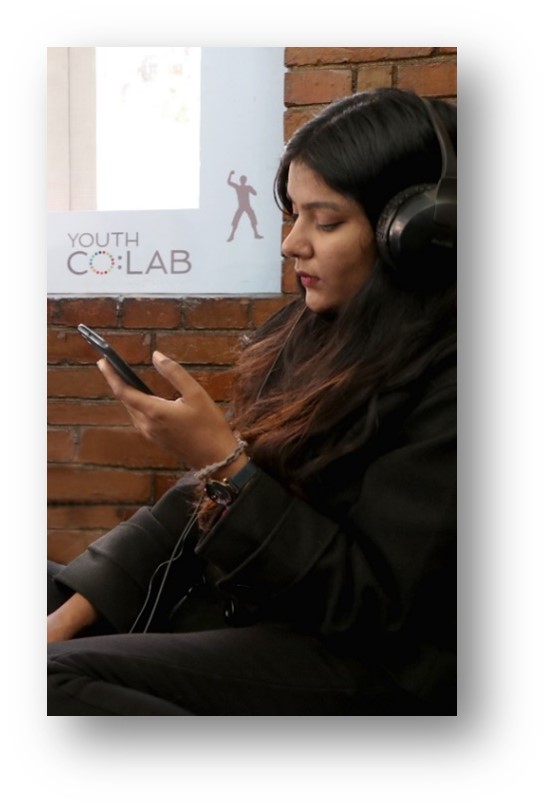 The course Ms. Mathema completed is a mobile application, Nirwachan Sikshya (Electoral Education), which was launched by the Election Commission, Nepal (ECN). In a big stride to engage more youth in civic education outreach, the Commission successfully launched this mobile application virtually to disseminate electoral education on 4 December 2020. The work on this application started in 2019; but it was during the lockdown that the Election Commission worked on this application, through virtual meetings with UNDP, as the development partner. The mobile application provides an interactive platform for secondary school students, teachers, and anyone interested on the issue to test their knowledge on their social studies curriculum.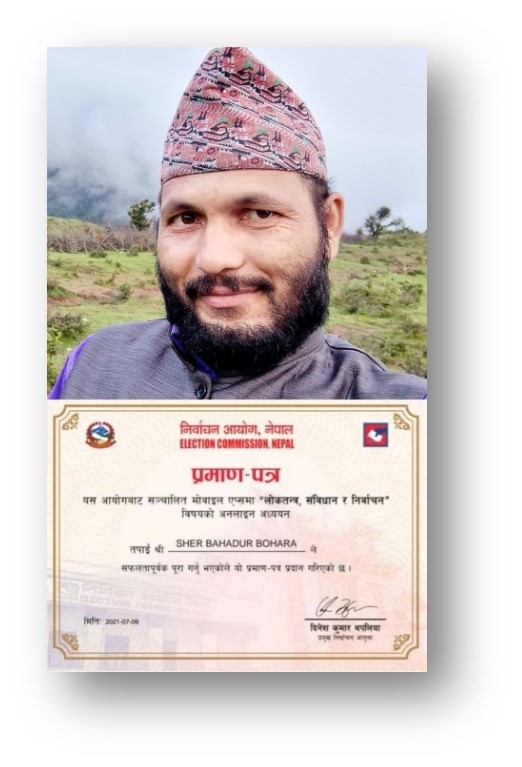 Nirwachan Sikshya is based on the curriculum on elections and democracy that ECN developed for secondary school social studies teachers. The application contains seven chapters on topics such as democracy; electoral system; electoral cycle and process; electoral stakeholders. Mr. Tularam Saud is a social studies teacher in Doti. He shares, "This has become a great reference model for us to use. A lot of the material from the mobile application is part of the social studies curriculum." In addition to Tularam, another teacher in Doti, Mr. Sher Bahadur Bohara (picture on right) concurs, adding,
"This application can benefit anyone, voters, students, but especially us teachers." He adds, "This application simplifies learning a great deal. The kind of content that is part of this mobile application is otherwise very intricate and dense; however, this application makes learning much easier and enjoyable with a combination of quizzes and videos." However, both of them agree that the difficulty in Internet access in the high hills curtails the use of this mobile application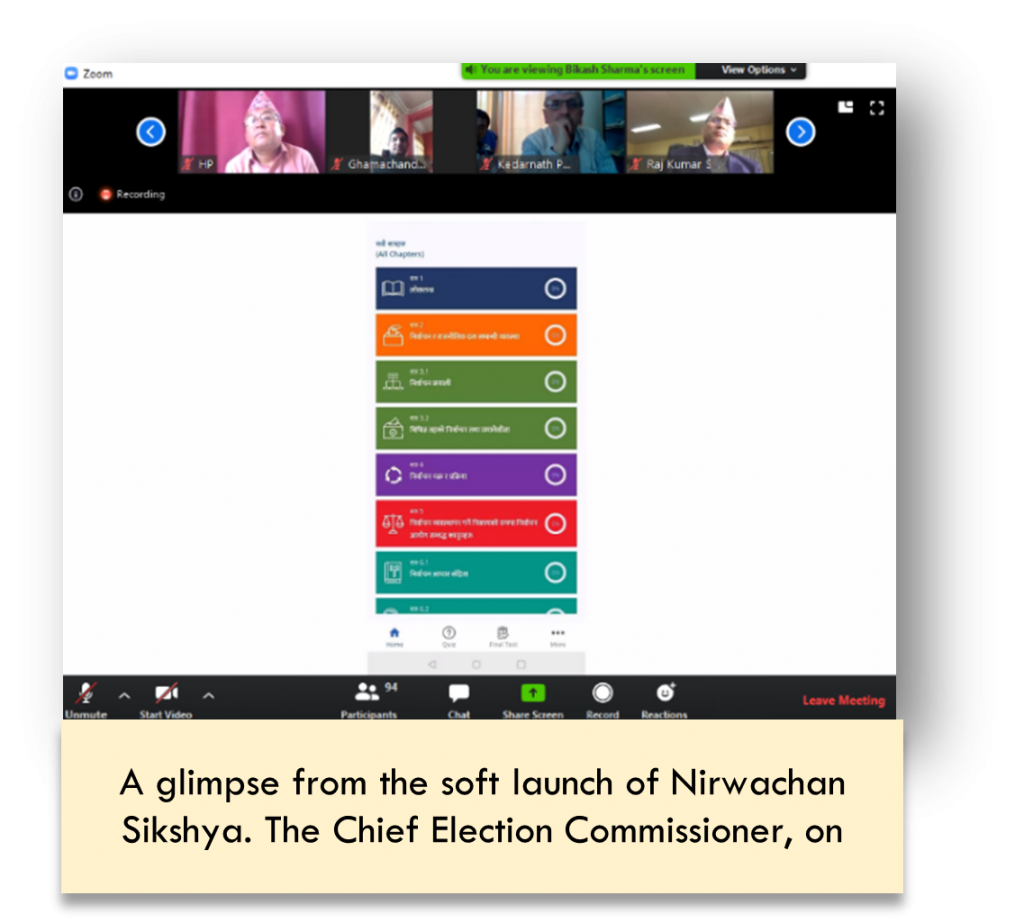 The application is available in Nepali and intended for all citizens, as an innovative and modern-day tool for  election education outreach. Speaking at the soft launch of the application in April 2021, the Chief Election Commissioner (CEC) Honourable Dinesh Kumar Thapaliya stated,
"The application seeks to extend ECN's civic and electoral education endeavours to attract voters. It presents electoral content in a very simple manner so that anybody can interact with it and learn from it." The application will also certify users  who score 70% or higher with an electronically generated certificate signed by the CEC.
Following the launch of this mobile application, orientation programmes were organized for various electoral stakeholders, including the District Election Officers from across the country, youth, persons with disabilities, students, teachers, journalists on using this mobile application.
The orientations reached a total of 275 people. Moreover, 353 people have registered for the application, and more than 500 have downloaded it.  "I attended an orientation on this mobile application, conducted by the Election Commission. This mobile application is very resourceful and I make it a point to recommend it among everyone I meet. I was at a teacher's training event recently, where I took the opportunity to share information about this application," says Mr. Rajan Shrivastav, District Election Officer of Pyuthan.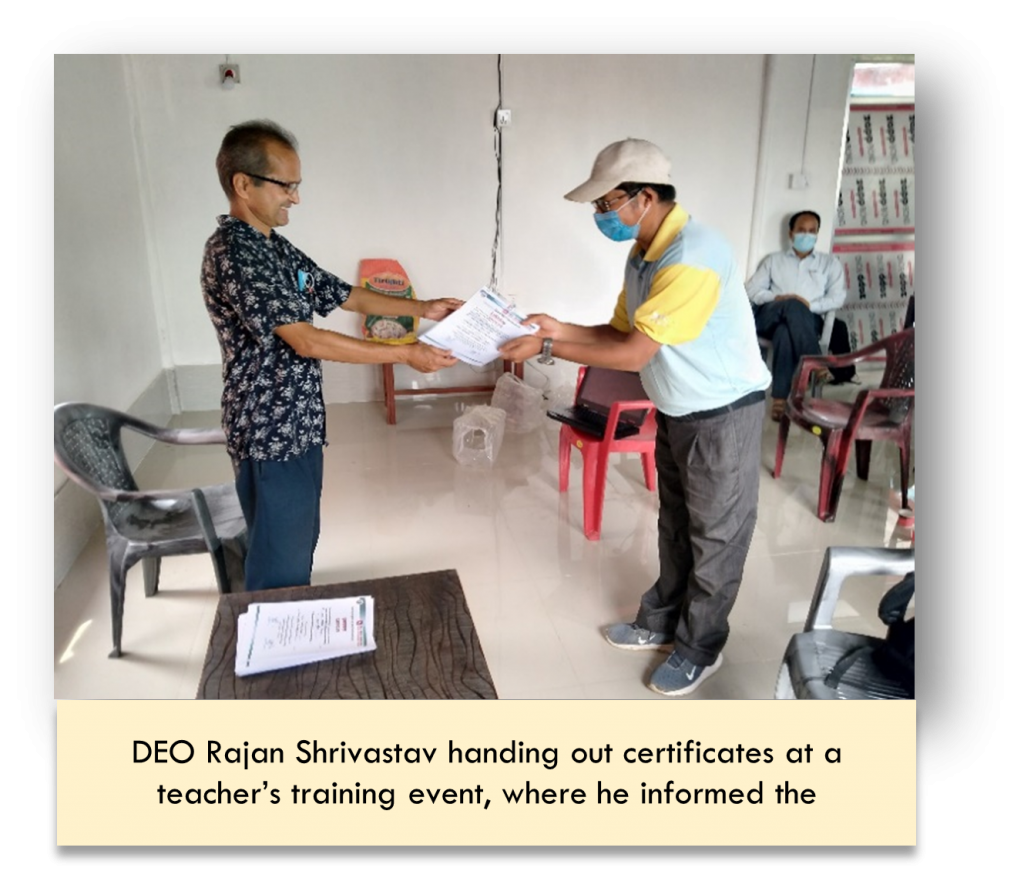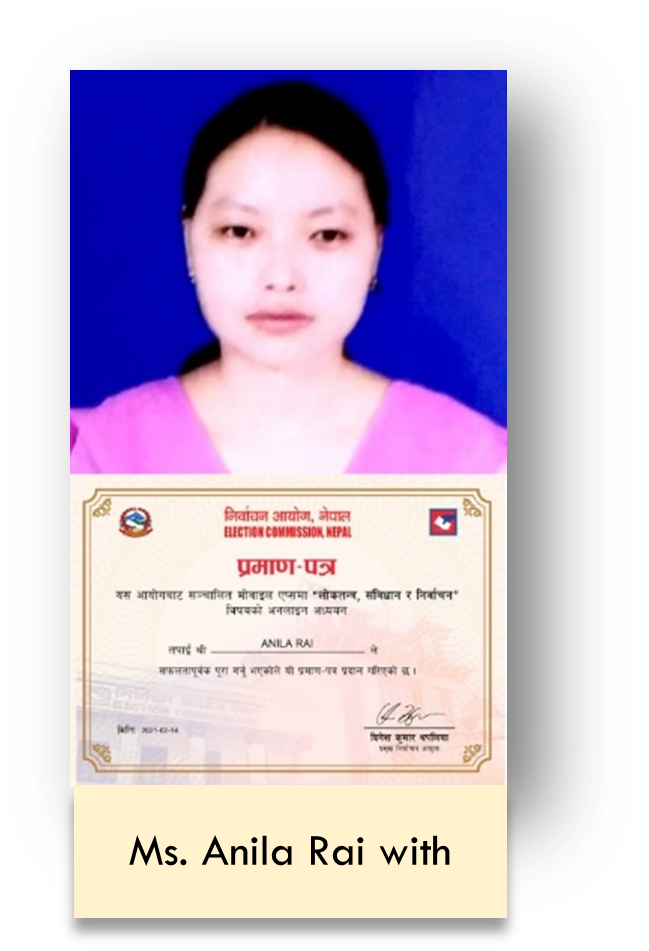 Like the Mr. Shrivastav, Mr. Chandra Prakash Nepali, who works in radio journalism, also received an orientation about this mobile application. "As a news reporter, this mobile application greatly enhances my knowledge and skills on elections," he says. This is one of the anticipated objectives of the mobile application – that it orient journalists on key contents relating to elections, to ensure accurate electoral reporting.
This application has also come in handy for law students. Ms. Anila Rai (picture on right) is studying for a law degree in Nepal. She shares, "For my law degree, it is imperative we complete a course on elections. I found this application through Play Store and decided to try it since it was launched by ECN. I have learned a lot from this application, which helps me with my course." In addition to being a law student, Ms. Rai is also a teacher and has worked as a polling officer in the previous local elections. She further adds, "Because I have served as a polling officer, I was even more interested in completing this course. And it has lived up to my expectations."
The application is being used by a varied range of electoral stakeholders; and all of them unanimously agree on the utility value of this application – it is fun as well as insightful. The application is useful for all voters, but will especially benefit high school level Social Studies Teachers and students, polling officials and youth activist of political parties, among others. Moreover, this free of cost will allow users to receive a signed certificate from the Chief Election Commissioner for those who obtain above 70% in the course. Once the application has been downloaded, it can be used by a number of players. Moreover, the application can be completed offline; however, one needs to be online to generate the certificate. The mobile application is free and available to all Android here and IOS users here.
UNDP's Electoral Support Project  provided technical and financial support to the Commission to develop the mobile application. The project has provided technical and financial assistance in order to set up an Electoral Education and Information Centre (EEIC) at the Commission premises as well as select District Election Offices. The project also supported the Commission with a mobile EEIC to reach voters from the most remote parts of the country. In addition, the project has also developed a Social Studies Teachers Training Programme. The project has drawn learnings from these previous works to feed into the mobile application. The mobile application will support ECN  towards achieving the vision set out by its Third Strategic Plan, to adapt to Information and Communication Technology for its daily work. The Electoral Support Project has been a major technical assistance provider to the Election Commission in Nepal since 2008.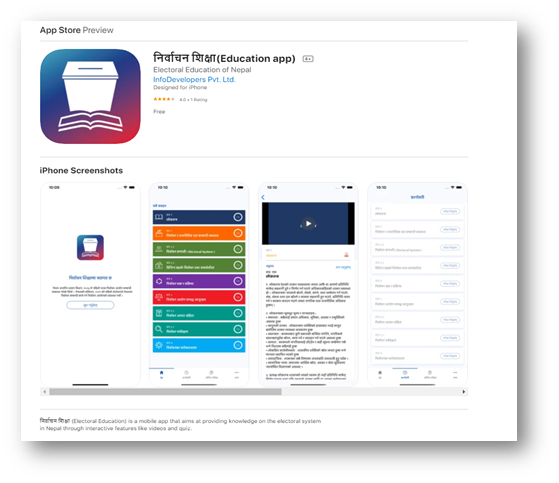 The mobile application is free and available to all Android here and IOS users here.