Support to ECN strategic planning.
Professional development of ECN staff and other stakeholders through BRIDGE workshops.
Support to 2019 by-elections.
The Master Training of Trainers of resource persons for the election management and polling cascade is to be held on 6 and 7 April.
Regional Training of Trainers for approximately 850 Chief Returning Officers and Returning Officers. They are responsible for the overall management of the polling centers and conduct of elections that ranges from candidates nomination, logistic management, holding elections, counting of ballot papers, tabulation and finalization of results.
Delivery of IT equipment for election operations.
Multi-stakeholders dialogue, youth engagement and campaign on conflict sensitivity and do-no-harm for electoral risks mitigation.
Capacity building of potential women candidates.
Public outreach and voter education through print, electronic and social media.
On-site advisory and operational assistance were provided to the ECN at national and sub-national levels that contributed to credible and inclusive second Constituent Assembly elections held in November 2013 with 78.9% voters' (51% women) turnout.
An additional 531,546 citizens of 16 years and above were registered on biometric voters' roll with photographs in 2016, accumulating a total of registered citizens to 13.8 million (81% based on 2011 census).
Strategic Plan (2015- 2019) of ECN developed and implemented.
Electoral Education and Information Center (EEIC) established at ECN headquarters in Kathmandu and two regional offices. Mobile EEIC was launched targeting communities residing in rural parts of Nepal. An additional 4,288 citizens, particularly youth and first time voters, were sensitized on democracy and elections through EEIC in 2016, accumulating total citizens sensitized to 26,288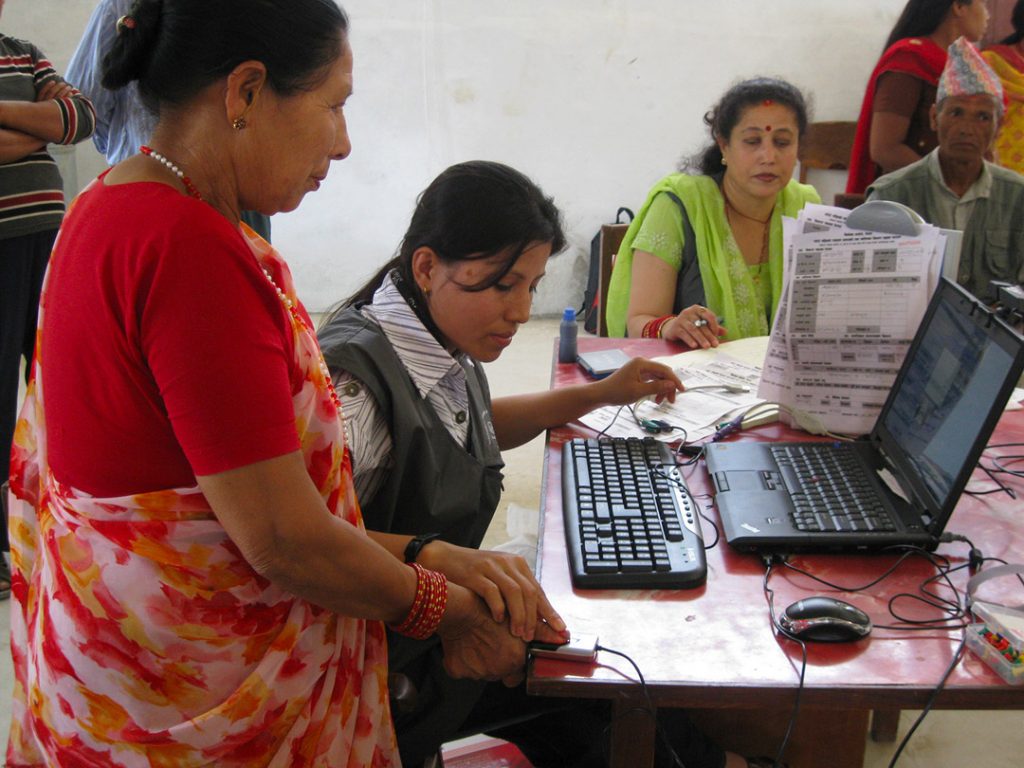 In order to enhance voters' meaningful participation in the future elections, the ECN reached out to almost 6 million citizens in 2016 through print and electronic media sensitizing them about elections, electoral provisions in the new constitution and democracy.
Accredited and semi-accredited national BRIDGE facilitators increased to 70, building a pool of national electoral experts to facilitate trainings following BRIDGE modality.
ECN started independently using GIS technology in electoral processes, capturing, storing and analysing all types of spatial and geographical data, restating its strengthened in-house capacity on GIS and electoral mapping
Media Centre, Call Centre and Joint Electoral Operations Centre established at the ECN that have strengthened its coordination with stakeholders, particularly during electoral period.
More than 5000 ECN officials and electoral stakeholders capacitated on different thematic areas on elections.
Gender and Social Inclusion Interventions
GESI Policy, Strategy and Action Plan were developed and is being implemented.
GESI unit established and is fully functional.
Targeted programmes being organized for visually impaired citizens, people with hearing disability and senior citizens.
Social studies teachers being trained on "elections and democracy." These train teachers are able to impart clearer message to higher secondary school students who are the future voters. This is one of the flagship programmes of ECN.
Training manuals developed for people with hearing disability and visually impaired.
More than 50% of registered voters on biometric voters' roll are women.