The Nepal local election is conducted in two phases: Polling for the local Units comprised in Provinces 3, 4 and 6 is on 14 May, and for those in Provinces 1, 2, 5 and 7 scheduled for 14 June.
On Sunday 14 May, Nepali citizens voted to elect their representatives of 281 local units, mainly in hilly and mountainous regions of the country.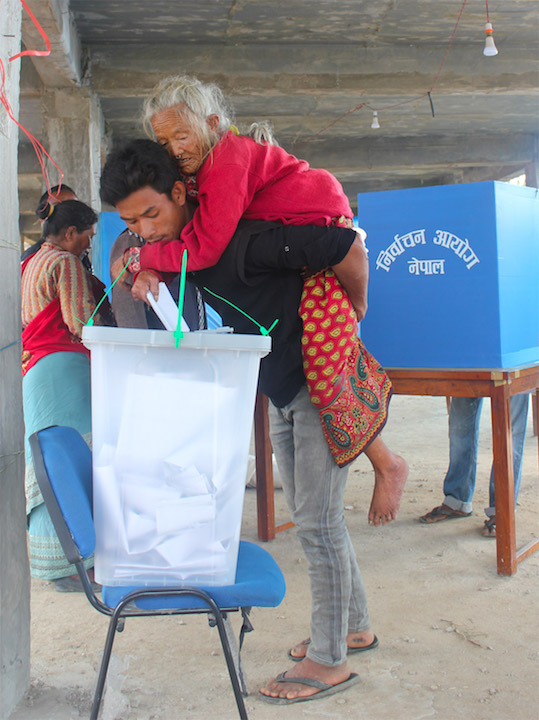 The voters of Phase I represent just over one third of the total electorate and more than 70% of them turned out to vote.
According to observer reports, polling day operations were well organized and generally peaceful, although sporadic cases of election-related violence were registered.
A total of 49,337 candidates filed their nominations, including 19,332 women.
There are reserved seats for women and dalit women to be elected as ward committee members.
A total of 9,033 women and 7,472 dalit women filed their candidacy for those reserved seats.
Furthermore, political parties that submit candidates for the two top positions at the level of village and municipality are obliged by law to submit at least one female candidate.
Counting is conducted at the level of the 281 local units under the supervision of the Returning Officers, who declare the results.
The winning candidates are the first elected leaders under Nepal's new federal setup. Last time Nepal held local elections was in 1997.
ESP supported the conduct of the elections through technical assistance and operational support, primarily in the areas of information technology, training, voter and candidate education, women's political participation, inclusion of people with disabilities, electoral violence prevention, as well as the supply of IT equipment.
---
The Electoral Support Project- Phase II (ESP) is a technical assistance initiative which focuses on a long-term institutional and professional capacity development of the Election Commission (ECN) for conducting credible, inclusive and transparent elections at a national. The objectives of the project are 1) to strengthen the capacity of the ECN to function as an independent and credible institution, 2) to allow the conduct of the election cycle in an effective, sustainable, and credible manner, and 3) to increase democratic participation, particularly for under-represented and disadvantaged segments of the Nepali society. ESP is currently funded by EU and Norway.