The Election Commission of Nepal (ECN) conducted a review of the 2017 elections in Nepal in consultation with various stakeholders.  The objective of the review was to document the lessons from the 2017 elections and to gather recommendations for improving electoral processes in the future.
In 2017, ECN organised the three tiers of elections at the local, provincial and federal levels under conditions of stringent time constraints and uncertainty. The results of the elections were accepted by all stakeholders. Based upon these elections, the ECN produced a comprehensive report documenting the lessons learned and serving as a guidance for ECN and other electoral stakeholders to plan for credible elections in the next cycle.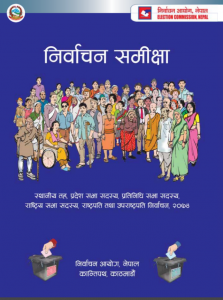 ECN conducted the review with support of Electoral Support Project (ESP) based on a concept that ECN and ESP developed jointly. The process consisted of a desk review of the election process and multi-stakeholder consultations in the seven provinces. A total of 341 people, including ECN staff, former chief returning officers, provincial assembly members, electoral contestants, observer organisations, security and media personnel, participated in the event.
The discussions in the consultations covered 18 thematic areas, including election laws, voter registration, polling center review, political party registration, election code of conduct, voter education, electoral trainings, election management, election counting and results, election observation and monitoring, gender and social inclusion, electoral disputes resolution, election information sources, election security, election materials management, ballot paper management, staff mobilisation, and financial management.
During the consultations, a perception survey of the participants was also conducted. The report presents the consolidated findings of the survey, discussions, problems encountered and recommendations provided under each thematic area. The report also forms a reference for the next ECN Strategic Plan (2019-2023).
The report is available in the Nepali language and can be downloaded here.
An summary of recommendations in the English language can be downloaded here.
____________________________________________________________________________________________________________________________
The Electoral Support Project- Phase II (ESP) is a technical assistance initiative which focuses on a long-term institutional and professional capacity development of the Election Commission (ECN) for conducting credible, inclusive and transparent elections. The objectives of the project are 1) to strengthen the capacity of the ECN to function as an independent and credible institution, 2) to allow the conduct of the election cycle in an effective, sustainable, and credible manner, and 3) to increase democratic participation, particularly for under-represented and disadvantaged segments of the Nepali society. ESP is currently funded by EU.